Review a Book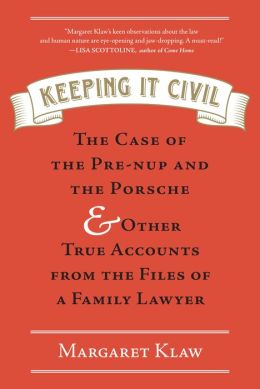 Keeping It Civil: The Case of the Pre-nup and the Porsche & Other True Accounts from the Files of a Family Lawyer
By Margaret Klaw
Provocative true cases that explore the intersection of our most intimate relationships and the law--and offer a window into how we define a family today.



---
The Marble and the Sculptor: From Law School to Law Practice
By Keith Lee
Written from the in-the-trenches perspective of a young lawyer, The Marble and the Sculptor provides a clear no-nonsense path from law school to lawyering. It presents a fundamental understanding of what is expected of new attorneys and a framework for becoming a successful-both as a lawyer and in life. With advice on everything from choosing classes that matter in law school to the importance of writing well, attracting clients, and avoiding five basic mistakes in your first job at a law firm, this book is destined to become the go-to guide for all young lawyers regardless of law school or area of practice.


---
REMOTE: Office Not Required
By Jason Fried and David Heinemeier Hansson
As an employer, restricting your hiring to a small geographic region means you're not getting the best people you can. As an employee, restricting your job search to companies within a reasonable commute means you're not working for the best company you can. REMOTE, the new book by 37signals, shows both employers and employees how they can work together, remotely, from any desk, in any space, in any place, anytime, anywhere.

---
Interested in reviewing any of these books?
Contact Lisha Brosseau, NH Bar News editiorial assistant, if you are interested in reviewing one of these books for us. Or suggest your own recent reading.