By Kathie Ragsdale
Benjamin Bryant was nine years old when he started using drugs. Since then, he has been led out of his high school in handcuffs and has robbed stores and broken into homes to feed his addiction.
He has had pancreatitis and two heart surgeries owing to drug-related damage to his body. He has been incarcerated multiple times in multiple states for offenses related to his usage.
But for 20 years, he says he had never been offered medication-assisted treatment (MAT) for his drug use.
Finally, a private therapist suggested the treatment several months ago and he's hoping it will make all the difference.
"I'm sustaining pretty well," he says, after two months on the addiction treatment medication Suboxone. "I don't have the urge to use."
A native of Bangor, Maine, Bryant was in the third grade when he moved to Hampton Beach, New Hampshire, where his family worked for Fiesta Shows — "New England's finest traveling amusement park," its website says.
He helped by working games — darts, roller derby — calling to the crowds to come have a try at winning a prize.
The lifestyle meant the family — including young Ben — traveled a lot, and his education consisted of a combination of home-schooling and attending local schools while staying with a beloved grandmother when his folks were on the road.
He also experienced some "bad things" as a boy, he says — things so painful he has never talked about them until now, to his therapist.
So, when he was on the road at a carnival and someone offered him a joint when he was nine, he took it.
"I just wanted to do what everybody else was doing," he says. "It calmed me down and made things funny. It was easy to joke around and be sociable. I was really angry when I was young. I'm still working on that."
The using progressed. He started drinking about the same age, nine, and by the time he was 16, he was shooting heroin.
Kicked out of Winnacunnet High School, he and two friends started breaking into homes in towns like Hampton, Hampton Falls and Seabrook, and using the proceeds of their efforts to buy drugs.
He spent time at a Concord youth detention center where, he says, "there was no treatment, no counseling. If kids were on drugs, it wasn't like they were talked to about it."
(As of last year, because of a change in state law, the Sununu Youth Services Center in Manchester, where juvenile offenders are now sent, does provide services to teens struggling with substance abuse disorders.)
Bryant says part of his usage was fueled by the 2004 cancer death of the grandmother who had helped raise him, Edith Marie Bryant, in whose memory he has a rosary tattoo on his right forearm.
"That really set me off," he says. "That's when I really started drinking and doing the heavy cocaine."
At 16, he says, he was charged with possession of marijuana and, because of his earlier offenses, was charged as an adult and sent to the Rockingham County House of Correction in Brentwood.
He was on a work release block and fellow prisoners were able to sneak drugs into the unit, he says, "so that wasn't too bad a detox."
Upon release, "I started doing OxyContin, then heroin, and I started running rampant," he says. "I was robbing stores, selling drugs to feed my habit. I can't tell you how many times I've been in jail."
Bryant says he has been imprisoned — and has detoxed without medication — in correctional facilities in Rockingham, Cheshire and Hillsboro counties in New Hampshire, as well as in Kentucky, Connecticut and Florida as he moved around with the carnival.
When he was 22, facing charges of possession, he turned himself in to serve time in Brentwood, hiding five grams of heroin and 20 Valium in a body part to help him get through withdrawal.
"Once they were gone, I started detoxing really hard," he says.
In all of his incarcerations, "I never got any treatment," he adds.
Then, in 2017, while serving time at the Valley Street Jail in Manchester, Bryant was enrolled in something called SATCO, or Substance Abuse Treatment Community for Offenders — a program meant to rebuild coping skills in inmates with substance abuse issues.
"You have to realize that everything you did was your choice," Bryant says of the program. "You weren't allowed to do MAT. It's a pretty good program, but when I got out, I used again."
Arrested the following year and hospitalized with a bacterial infection that attacked his heart valves — a consequence of his drug use — he was released on personal recognizance with the stipulation that he participate in a rehabilitation program.
"It was the first time they ever suggested treatment for me," he says.
Blueprint Recovery in Concord offered a 28-day, 12-step program with partial hospitalization and it led to seven months of sobriety for Bryant.
"I got my daughter back, my girl back," he says of his 9-year-old daughter and his fiancée, Audra Fowler, whom he has known since he was 12.
The three of them live in a basement apartment in Merrimack with Fowler's 3-year-old son.
Nevertheless, he relapsed for two months, and underwent treatment at the Farnum Center in Manchester.
When he got out, remembering the suggestion of someone he met in the Blueprint Recovery program in Concord, he sought out a therapist.
"I have a bunch of mental health problems," he says. "I've had best friends die in my arms. I've seen people get shot and stabbed. I have a lot of PTSD."
The therapist suggested MAT and Bryant now takes Suboxone each morning.
He attends Narcotics Anonymous meetings and his fiancée, seven years clean herself, makes
sure he talks to his sponsor regularly. He thinks he just landed a job at a grocery store.
He says he doesn't want to go back.
"My family trusts me now. I have nice things," he says. "I'm doing the right thing, with MAT this time."
Former inmates who have accessed treatment and other services in jail or court speak about their experiences.
AIMEE EATON
By Pat Grossmith
Aimee Eaton, 35 weeks pregnant and in full-blown fentanyl withdrawal after being jailed for two days, ruptured at Exeter Hospital and spontaneously delivered a 5 pound, 8-ounce baby boy.
It was September 10, 2017, and her longtime addiction led to her son Benjamin, being born an addict. Nurses quickly whisked the infant away to get him medical treatment.
When the physician on-call arrived, after Eaton already had delivered her son, it was the same doctor who in 2011 had prescribed oxycodone for her because of complications she had with the birth of her first son, Jeremy.
That prescription ultimately led Eaton, now 26 years old, to a nearly eight-year opiate addiction. In and out of various rehab centers and jails across the state over those years, Eaton had been sober for seven months as of December — thanks to drug court.
September 2017
Eaton, a single mom, had been in the Rockingham County jail for two days prior to giving birth at Exeter Hospital. She was being detained on a probation violation from a previous drug conviction.
She had been brought to the hospital several times that day because of false labor pains. Each time she was medically cleared and sent back. The last time, as she was being driven back to the jail, she felt stabbing pains in her stomach that moved to her back.
At the jail, she said there were a couple of nurses and a lieutenant saying, "'OK, it's time to stop playing games. You're fine. You're wasting the county's time, the sheriff's time,'" she recalled.
Eaton knew something was seriously wrong and said she needed to go back to the hospital.
"I get back to Exeter Hospital and the security guy tells me to shut my [expletive] mouth because I was screaming in pain at this point," she said. "They said they weren't going to put me back on the birthing floor but in one of the psychiatric rooms because I was making some noise."
She admits she was disruptive and using abusive language.
"But they checked me down in triage and I had ruptured right there," she said.
Eaton said she was told that withdrawing from opioids can result in a spontaneous delivery which is what happened to her. She is grateful she was far enough along in her pregnancy that her son survived. At the same time, she said, it was a horrible feeling knowing that because of her, her child was born an addict.
Hours after giving birth to Benjamin, Eaton was brought back to the Rockingham County jail. She never got to hold her infant son.
"I got to touch his foot through the incubator," she said, choking up and crying at the memory. The baby was taken to Dartmouth-Hitchcock Medical Center in Lebanon for treatment.
Then, Eaton was taken to Hillsborough County House of Corrections, familiarly known as the Valley Street jail, in Manchester. Rockingham County pays Hillsborough to house its female inmates.
Valley Street Jail
At Valley, Eaton was put on a suicide watch.
"I am not suicidal," she told the correctional officers. "I just had a baby."
She was given a suicide smock or "turtle suit," a heavy quilted wrap to wear.  Normally, she said, an inmate is unclothed under the wrap but because she had just had a baby, she was allowed to wear her panties but no bra. She asked for toilet paper and pads and another smock to cover up.
She said a correctional officer didn't bring the supplies to her for hours.
A mental health team came by on the second day she was there and determined she was not having a mental breakdown and was not suicidal.
"I had my baby. This is making things worse for me," she told them.
They saw to it that she got back in the regular orange jail attire.
"Every time I said things couldn't get worse, they did," she said.
She was placed in a cell in the women's section but she became feverish.
"I passed a very large blood clot and I was feeling very bad," she said.  "A nurse who worked at both Brentwood (Rockingham) and Hillsborough took my temperature. It was 103 degrees."
Still, she remained in her cell. In the middle of the night, a guard arrived and told her she was going to booking. From there, she was taken to Elliot Hospital and diagnosed with endometriosis, dehydration and an infection, the result of some placenta remaining inside her following the birth. Her stitches also had dissolved too early from her having to go to the bathroom so much. She was prescribed antibiotics and returned to Valley.
Within days, social workers from the Division of Children, Youth and Families arrived at the jail. They opened a case to start proceedings to take custody of her newborn son. Her mother was taking care of her 6-year-old son but wasn't able to take care of an infant as well.
The baby was placed in foster care in Lebanon, Eaton said.
Two months after her son was born, Eaton was able to hold her child for the first time because the foster mother brought the baby to her court hearing.  She was released from jail and placed into a rehab program out of Rockingham County.
First, she had to go back to the Rockingham jail to be released. When she arrived, one of the girls gave her a hug and told her, "You're safe now."
2016
Once she completed a rehab program in December 2016, Eaton went back to live with her grandmother in Seabrook. She was clean for about five months but then began using again and became pregnant with Ben.
This time, her family — including her grandmother who doted on her and stood by her throughout all her rehabs and lapses — cut ties with her.
After the baby was born, however, her mother relented and saw to it that she got into rehab again. Because she had private insurance, she went to Serenity at Summit in Haverhill, Mass.
"I had very bad postpartum depression," she said. "Being incarcerated after having a baby is tough.  I wouldn't wish what I went through on my worst enemy."
Eaton said all the time she was trying to get into drug court but, because she was doing well, she wasn't eligible.
On February 22, 2019, her probation officer found psilocybin mushrooms when he searched her bedroom.
That resulted in her pleading guilty to a felony charge of possession of controlled drugs. She was given a 12-month sentence, suspended for four years and ordered to successfully complete the Rockingham County Drug Court Treatment Program.
Released from the jail and into the drug court program, Eaton went to live with and care for her grandmother in Seabrook. Her grandmother was ill with a second bout of lung cancer. She died two months ago and  left her house to Eaton, along with her car and a small insurance policy that allowed Eaton to pay off the auto loan.
Her son, Jeremy, is with her but Benjamin is soon to be adopted by his second foster family who had lived in Epping but has since moved to Freedom. The baby's paternal grandmother is trying to gain custody of him but, Eaton said, a judge keeps dismissing her motions. The father, she said, has not been in Benjamin's life.
The foster mom has made it a point to have Eaton in Benjamin's life.
"She welcomes me into her home," she said. "We go out together to eat. It's like half your heart is torn out. He refers to me as Mommy Aimee and I'm OK with that."
The foster mom wants Eaton to go to the adoption proceeding and sit with them at the table.
"I know it's going to be hard but she said, 'I know the best day of my life is going to be worst day of yours,'" Eaton said.
She said the new home is the best place for Benjamin.
Eaton has more than a year left in drug court. She is still sober and in mid-November was named "All Star of the Week" for drug court.
CHRISTINE BEMIS
A Multitude of Services but No Success for Christine Bemis — until she pledges to continue the journey of recovery her late brother started.
By Meaghan Breen
Christine Bemis is free. Free from prison. Free from a life isolated from her children. Free from drugs and alcohol, and free from the compulsion to quell the pain of the hole inside her soul with chemical relief.
She had her first drink when she was 14 years old at a sleepover with a girlfriend after her mother and stepfather broke up. Her stepfather was abusive and her life became dominated by secrecy, shame, and control. These feelings were stifled the night she had her first drink — she gained some temporary relief.
Alcohol led to marijuana, and soon she found herself living in a two-bedroom apartment with six other addicts shooting cocaine and heroin. Bemis encountered physical violence. She lost her children. She resorted to stealing in order to support her habit. She lied. She shot up. She turned her apartment into a trap house, and she shot up some more.
She frequently encountered judges, probation officers, and correctional officers. She tried many avenues to get clean, such as adhering to a methadone plan, drug court, 12 Step programs, and even securing Suboxone off the street. Nothing stuck.
"There was no in between, you know, it was like one minute I'm feeling this way, the next minute I'm high," Bemis says. "I spent so many years lying about my past because I didn't want people to know about the trauma that went on there."
On March 23, 2018, she traded her old life in for one of serenity. One of depth and weight. Her new life encompasses and hinges on a Higher Power, a rock-solid support system, and the deep-seated motivation to continue a journey that her own brother was not able to walk after his death two years ago.
Bemis was last released from Cheshire County Jail on May 8, 2018. It was one of a dozen stays she had at the facility in her years of drug use. Her longest stay was six months. Christine had access to a number of services in Cheshire County DOC. Some of these included Subutex (prescribed primarily for managing detox from opiates) continuation of Medication Assisted Treatment and suboxone access prior to release. She was also able to attend weekly recovery groups, 12 Step meetings, and had opportunities to meet with individual substance abuse and recovery counselors. She also finally had access to appropriate medication to treat her mental illness.
Despite the extensive services Bemis was offered, she was not able to gain traction in her recovery until she was released.
Although she encountered the challenges that she has repeatedly experienced upon her transition back to society, such as gaining access to her children, finding housing, health insurance, and employment, this time it was different.
Bemis lost her brother Thomas to an overdose two years ago.
"After he died I lost all will to not use," she says. "I lost all will to live, you know, I basically just wanted to die."
Thomas relapsed while in the Drug Court program and so when she was offered a chance to join the same program instead of serving a sentence of more than four years in prison, Bemis balked. She was angry. She was bitter.
There was one correctional officer, however, who planted a seed within her that finally yielded change. He suggested that perhaps Christine's purpose was to continue the path that Thomas had started.   So, she did.
At first, she did it for him. Bemis says that Thomas always believed that she was the best person he knew, so she strove for this every day. Eventually, the layers of her resentment towards the Drug Court program dissipated, and she found that at some point in her early months of recovery, she began to do it for herself, too.
This time, she was driven by a mission. This time, she was desperate.
"I finally got to a place where I was in so much pain that I just didn't have any other option," Bemis says. "Once I'd been on my meds for a period of time, I woke up and decided I didn't want to die.
"I have a mental illness, so I still have days, you know, where I don't want to live. I have to just accept that. I get through one day at a time, but I didn't want to die anymore. Those are my options [with drugs]: I can go back and either live completely miserable for the rest of my life or I'll die."
Beginning at the jail, Bemis had access to psychiatric medication, which she says was the first time she ever felt stabilized and on "the right meds."
The continuation of mental health care outside of the jail that she schedules includes her visits to see her therapist regularly, and her appointments with a Licensed Alcohol and Drug Counselor. Both were set up prior to her release.
Bemis says in order to maintain her sobriety she relies heavily on other women who are seeking stability in recovery, too. In the Cheshire County jail, she was able to get to know other women in recovery. Post-incarceration, she knew where to find 12-Step meetings and had the contact information of other women in sobriety. She was able to gain insight into her own addiction and follow the suggestions of other women who had been sober for decades.
Bemis also credits the long-term drug court program she followed for the 14 months after she was released as a helpful part of her recovery process. The program provided structure. She had to go to a certain number of groups and AA meetings, and it gave her a secure timeline for her days that she had never experienced prior.
Without drugs, she had to develop something that could become the new center of her life. This new guiding force fills her days. It gives her direction, instills in her hope, and provides her with the solace she always unequivocally sought from a chemical release. This power, she calls God.
"I didn't think I was ever going to be able to do it — not without something else …" Bemis says of recovery. "That something today is God. I don't mean like a religious God, but I have something out there that's helping me.
"Before I used to try to micromanage my whole life and control and manipulate everything. And I still catch myself doing those things sometimes. But when I do, I create a mess for myself. But when I just do what's in front of me to do whatever that might be, and try not to be invested in the result, I'm good."
Since her release and subsequent sobriety, her life has not been perfect. The problems that existed for her the previous times she went to jail are still present. She has a long record, the majority for drug-related offenses such as felony possession, DUI, and felony sales. In the past, her record prevented her from gaining traction financially. She avoided businesses that required background checks due to her theft charges. Procuring housing was always a challenge —.she had no references, no credit, and  had broken almost every lease she had ever signed.
This time, however, her sobriety gave her hope. When Bemis began to feel steady in her recovery she was able to voice to employers and potential landlords the truth — that she has a criminal record but is striving one day at a time to maintain her stability, self-confidence, and reliability.
She says that a gift of her sobriety today is, "The fact that people trust me and that I know I'm trustworthy. I have a little bit of integrity."
But, there was one more piece of the puzzle — her children. While she was actively using drugs, her children had been taken from her by Division of Children, Youth, and Families (DCYF). Recently, though, she says that DCYF saw she was really trying, and she was finally able to have her two youngest children back in her life. She has created a home for them in a new apartment. They each have their own bedrooms.
Today, Bemis regularly attends drug court, counseling, and 12 Step meetings. Because of her spiritual growth, sound mental health, and network of supportive individuals around her who can identify with her past, she approaches each day with serenity.
"When I'm in a good spot mentally and emotionally, it's just like everything's magic…" she says. "When I was using, I don't remember ever laughing …
"I get to be happy even on the days that I'm completely lost. I know that I'll be okay. I never had that my whole life. That I think is probably one of the biggest gifts. It's just knowing that I'll be alright and I have what I need today."
Reporters Rachel Ford, Brianna Gilman, Violet Schuttler and Kendra Syphers contributed to this report.
ADAM CURRY
Diagnosed with Schizophrenia, Adam Curry says mental health court keeps him off the street and building new relationships.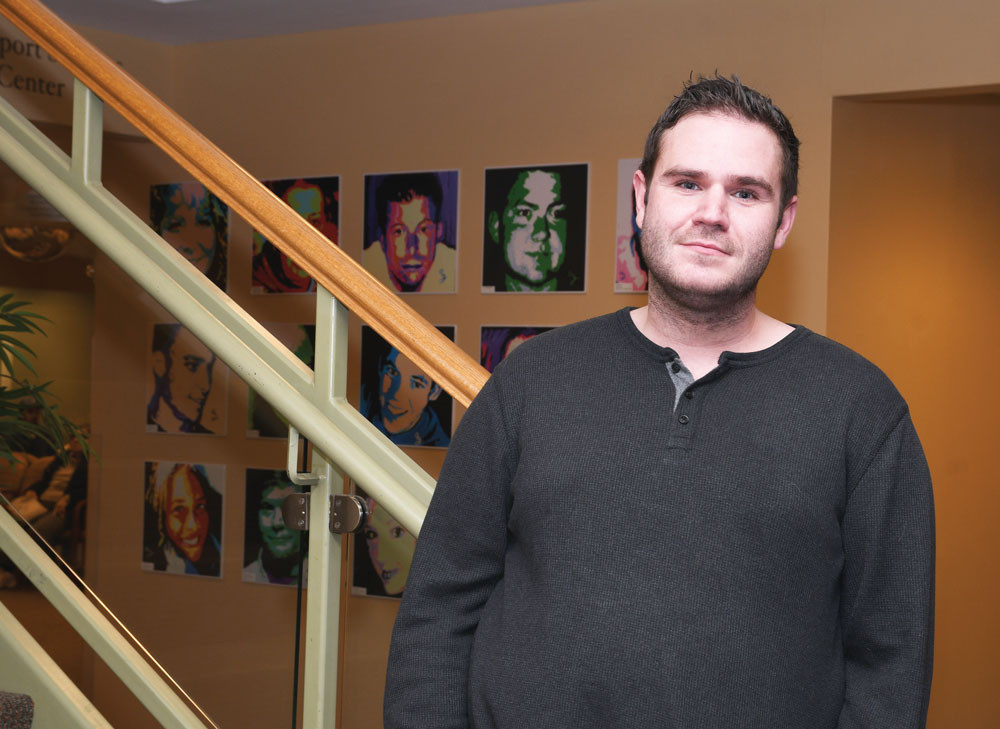 Adam Curry. (Photo: Jim Vaiknoras)
By Kathie Ragsdale
Adam Curry faced up to a year in jail  after an altercation with a police officer during a psychotic episode in the spring of 2018.
Instead, his public defender, the prosecutor and a judge agreed to suspend the sentence and refer him for 12 months of Mental Health Court, making a host of community services available to him and "changing my life," he says.
"Mental Health Court is the best thing that's ever happened to me," says the 29-year-old Derry resident. "It made me look at things differently."
Diagnosed with schizophrenia while still a high school student at Pinkerton Academy in Derry, Curry turned to drugs in an effort to halt the delusions and quiet the voices he heard in his head.
"I was a drug addict right after high school," he says. "I pretty much hopped on the meth [methamphetamine] train. I was using, then selling, for nine years of my life."
"It got to the point where I was shooting it," he adds, pointing to the scars lining both his arms. "I was doing an eight-ball [an eighth of an ounce] once a day."
But he also saw the toll that drug use can take — "seeing people die is definitely a huge thing," he says — and he started seeking help from the Center for Life Management (CLM), a mental health agency based in Derry. He was placed with the agency's ACT (Assertive Community Treatment) program, designed to provide wrap-around care for those with mental illness at risk of hospitalization or involvement in the criminal justice system.
Then came the psychotic incident where he left the house during an argument with his stepfather, started punching a wall outside, took on a police officer who arrived at the scene and found himself being rousted into a cruiser.
He spent the night at the Rockingham County Jail in Brentwood, wearing a "suicide vest," a tear-resistant, one-piece garment used for prisoners at risk of attempting harm to themselves.
An appearance before the 10th Circuit District Court in Brentwood ensued, as well as the referral to the Mental Health Court program, designed for defendants who have a possible underlying mental health condition that may contribute to their criminal actions. CLM is one of two Rockingham County mental health agencies that work with the court, the other being Seacoast Mental Health.
Requirements for the program are strict: The defendant must comply with a treatment plan developed by an approved provider — in Curry's case, CLM — and must attend a monthly review hearing in court with all the other program participants, during which the progress of each is discussed. Use of drugs or alcohol is prohibited and any violations can result in sanctions ranging from community service to jail time.
Curry's treatment plan at CLM required daily medication for depression, anxiety and schizophrenia; attendance at a weekly Illness Management and Recovery group, which assists clients in identifying symptoms and developing coping skills; and regular meetings with his therapist.
Because he suffered from both mental illness and drug issues, he also chose to participate in a Substance Use Disorder group at CLM, though it was not required by the court.
CLM also placed him on the waiting list to get state-subsidized housing, but because the wait can be seven to 10 years, he lives with his mother, stepfather and sister for now.
Recovery has not been a straight line.
"I relapsed a couple of times," he acknowledges. "One month, I missed almost all of my appointments. But I was honest about it. I went to rehab outpatient for three or four months voluntarily."
Curry graduated from Mental Health Court in June but decided to continue participating in CLM programs voluntarily.
He continues taking medication, has weekly one-on-one counseling and participates in two groups, the Illness, Management and Recovery group and one called Dialectical Behavior Therapy, designed for those with tendencies to harm themselves. He also remains a member of the ACT Team, which includes a peer support specialist, a nurse, case manager and a therapist.
He allows that he still sometimes has "urges" to take drugs.
"If it gets too intense, I call somebody on the ACT Team," he says of the program, which has staff available 24/7. He has also deleted contact information on his computer and cell phone, so the drug users with whom he once associated cannot reach him.
Curry notes that a side benefit of participation in Mental Health Court is new friendships, as many of those gathered for their monthly court sessions bond over their experiences. His new best friend, Erin, is also a graduate of Mental Health Court and a member of the ACT Team.
Catherine Bolduc, Curry's former case manager and now coordinator of criminal justice services at CLM, says he "was able to use Mental Health Court for his benefit, not as a get-out-of-jail-free card."
Curry says he's grateful for the opportunity.
Without Mental Health Court and the services it afforded him, he says, "I'd probably be back to just using drugs and hopping around everywhere.