As State Adds Medication Assisted Treatment to Prisons, More County Jails Eyeing Solutions for Addicted Inmates
By Meaghan Breen
For inmates struggling with addiction inside New Hampshire's state prisons, a new medication assisted treatment (MAT) program launched in June could bring relief. But in the state's 10 county-run jails, a patchwork of treatment services means inmates' access to MAT depends on geography — and advocates say those disparities could impede individuals' recovery and slow the state's progress in combatting the ongoing behavioral health crises.
Medication assisted treatment, a combination of FDA-approved medications and counseling used to treat substance misuse disorders, has become integral to the justice system's  alternative sentencing programs, such as drug courts, but has been more limited in correctional facilities.
In recent months, however, federal rulings have backed inmates' access to medication to treat substance misuse disorders (see timeline), and jail officials across New Hampshire say they are picking up the pace to support mental illness and addiction behind bars.
Many of the state's jails are moving toward implementing MAT as an extension of programs already in place, which fall under the behavioral health umbrella and cover mental health issues in addition to substance use disorders.
"New Hampshire is in the midst of an opioid epidemic and we are very pleased that the trend seems to be that the jails and prisons are recognizing SUD [substance use disorder] for what it is — a disease — and MAT for what it is — potentially life-saving medication that people should have access to even while in jail," said Henry Klementowicz, staff attorney at ACLU of New Hampshire. "The evidence is clear that people taking [medication] have better outcomes."
ACLU attorneys from Maine and Massachusetts helped represent the inmates in Smith v. Aroostock County and Pesce v. Coppinger.
20 percent of NH Prisoners Have Substance or Alcohol Use Disorder
In New Hampshire, more than 2,000 people were housed in local jails last year, according to the Prison Policy Initiative, in addition to the 2,700 people in the state-run prisons. Approximately 10 percent of male prison inmates and 15 percent of females had an opioid use disorder, according to the 2016 Annual Report of the NH Department of Corrections (the most recent report available). A further 4 percent of men qualified for Alcohol Use Disorder, and 4 percent of women fall under the Substance Use Disorder category. The state doesn't publish similar statistics on the populations inside the county jails.
Earlier this year, a report from the Substance Abuse and Mental Health Services Administration highlighted the critical need for MAT to support inmates' transitions back to local communities.
"Within three months of release from custody, 75 percent of people who were in prison or jail with an opioid use disorder experience a relapse to opioid use," wrote Jon Berg, senior public health advisor for the SAMHSA Center for Substance Abuse Treatment. "It is also alarming that incarcerated persons who are released to the community are between 10 and 40 times more likely to die of an opioid overdose than the general American population — especially within a few weeks after reentering society."
Studies show that MAT decreases drug use, overdoses, and disease for people with an opioid use disorder. In terms of criminal activity, MAT has a positive impact, decreasing arrests and re-incarceration, according to SAMHSA.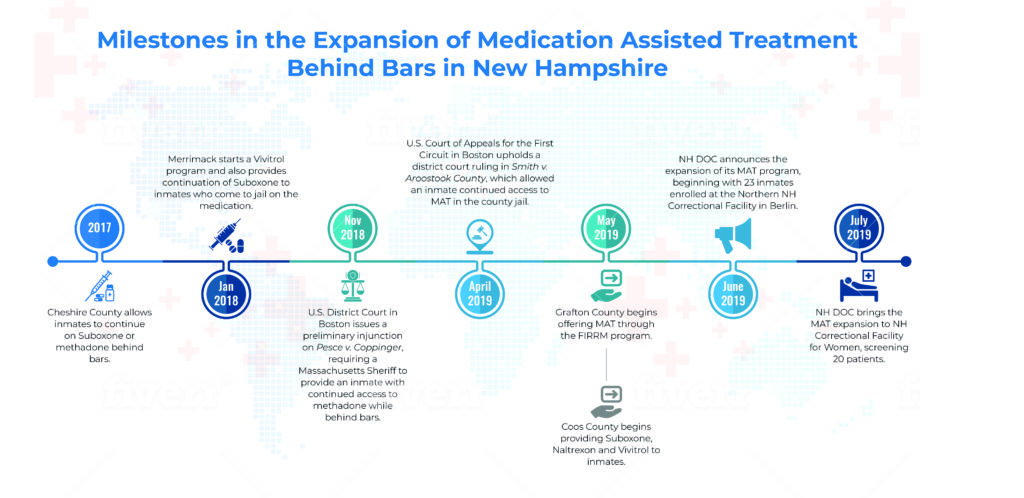 When an individual battling addiction is arrested and awaiting sentencing in jail, they experience a forced withdrawal, which results in a variety of physical and psychological symptoms, including intense agitation and anxiety, vomiting, insomnia, and abdominal cramping. There is also an increased risk for dehydration due to fluid loss. Because of this, most New Hampshire jails have a nurse or physician on staff to monitor inmates in detox, superintendents say.
Still, the expansion of MAT behind bars has been slow across the country — in 2018, a Pew Charitable Trusts analysis found that "fewer than 1 percent of the more than 5,000 U.S. prisons and jails, housing more than 2 million inmates, allow access to the FDA-approved medication."
The delay is particularly acute in county jails, due to a number of factors, including funding (jails can't be reimbursed from federal health care plans for MAT), community resources, and difficulties in assessing a revolving door of new inmates.
New Hampshire's Department of Corrections recently announced that certain inmates eligible for MAT will be treated inside the state's three correctional facilities, beginning with 23 inmates in Berlin, thanks to funding from the State Opioid Response Grant transferred from the NH Department of Health and Human Services. The model is based, in part, on the Rhode Island Department of Correction's MAT program started in 2016, according to Laura Montenegro, NH DOC public information officer.
FDA-approved medications offered in New Hampshire's prisons will include: Naltrexone, a non-addictive opioid antagonist that blocks the effects of opioid medication and also reduces alcohol cravings, and the injectable form of the drug called Vivitrol; Buprenorphine, an oral combination opioid and opioid blocker that blocks the euphoria from other narcotics, and the drug's injectable form called Sublocade (the brand-name drug Suboxone is made up of Buprenorphine and Naloxone); as well as two other oral medications used to treat alcoholism.
"A patient is apt to more fully participate in and benefit from psychosocial treatment when his/her drug cravings are blunted or blocked by prescribed MAT medication," NH DOC Chief Medical Officer Dr. Thomas Groblewski said in a press release.
NH DOC's program reached the NH Correctional Facility for Women in late July, when 20 patients were assessed by medical and mental health professionals.
Across the border, after Vermont legislators approved the administration of Suboxone and methadone behind bars, nearly a third of Vermont's prison inmates were receiving MAT by January 2019, according to the news outlet VTDigger.
Many County Jails Begin Services with Vivitrol
Carroll County jail superintendent Jason Henry recognizes the significant connection between mental health and addiction issues. And, he acknowledges that often there is a high co-morbidity rate in these individuals, in that they typically suffer from more than one condition simultaneously.
To combat this, Carroll County offers services to inmates that address overlapping mental health and addiction related issues. It's a multi-pronged approach that includes therapy, access to licensed alcohol and drug counselors, AA meetings, mindfulness, and case managers, among others — but no MAT.
In some situations, Henry said inmates can begin receiving Vivitrol shots prior to release, which are expected to be continued when the individual returns to their community. The medication blocks opioid receptors in the brain, helping patients to prevent relapse to opioid dependence. Currently, there are no participants in the program.
Superintendent Ben Champagne, of Coos County, offers the services of Licensed Alcohol and Drug Counselors in addition to drug court for those struggling with addiction. The county is one of four jails in New Hampshire that offer comprehensive Medication Assisted Treatment — such as Suboxone — to inmates who meet the requirements. At least four other jails offer Vivitrol shots just prior to release.
"Our MAT program is not community-based; however, we do focus on successful re-entry and work with inmates to get into community-based treatment programs," Champagne said in an interview.
The Cheshire County Department of Corrections also offers comprehensive MAT, including Suboxone and methadone.
"We do offer Methadone, but since we can't prescribe that directly due to Federal regulations, we offer that in collaboration with Keene Metro Clinic," said Doug Iosue, the Licensed Independent Clinical Social Worker for Cheshire County DOC. "We do not offer Naltrexone or Vivitrol. We would like to; however, there is for reasons unclear to me, a dearth of prescribers of these medications in our local community. If we were to start people on these meds at the jail, we would have trouble linking them up with an ongoing prescriber at release."
Superintendent Tom Elliot of the Grafton County Department of Corrections in Haverhill said the jail has offered a program called FIRRM for a few years, and MAT was incorporated into the program in May. MAT is offered in-house and funded by Grafton County.
Elliot said the FIRRM participants have continued access to self-help groups and employment, provided they comply with the rules of the program. Those who complete the program are able to celebrate at a graduation in the presence of family and friends. In order to qualify for the FIRRM program, the inmate has to have been sentenced to a minimum of 12 months in the Grafton County House of Corrections and have 50 days or less of pre-trial confinement credit.
The FIRRM program is typically voluntary, unless the individual is sentenced by a judge. Currently, of the jail's 64 residents, three people are enrolled in both the first and second level of FIRRM, and two in Level 3. A total of 28 people have been sentenced to FIRRM so far, and outside of the eight currently participating, 12 have graduated, with only one returning to jail for new charges. The remaining eight failed to complete the program due to rule violations.
Obstacles to Adding MAT
Many of the county jail officials, including in Belknap County, said they would like to offer medication assisted treatment beyond pre-release Vivitrol shots but are facing barriers.
Superintendent David Dionne of Hillsborough County, who recently announced plans to start MAT in the county's jail, says one barrier is that roughly 90 percent of inmates are not honest about their history of drug use when they are asked to initially self-report. As a result, the medical team is left scrambling to treat inmates effectively.
Although Carroll County does not currently offer methadone or Suboxone, Vivitrol shots are administered to some inmates prior to release. In recent years, Carroll County jail implemented an in-house behavioral health project called TRUST (Transitional Reentry Under Supportive Treatment) which serves as a re-entry system with aftercare for offenders who receive treatment during incarceration.
This program was possible due to a $350,000 grant received in 2016. Candidates are screened in order to determine whether they meet the criteria for the program. Those who have entered into the 90 day in-house program have a 19 percent recidivism rate, compared to 50 percent seen prior to the establishment of TRUST.
Merrimack County DOC also offers Vivitrol shots. The medication begins inside the facility, and inmates are able to discuss their options with the medical professionals on staff. These Vivitrol doses were purchased through a Residential Substance Abuse Treatment grant. Further doses will be covered by an individual's insurance, which the staff helps them sign up for before release.
Under the county's SOAR program (Successful Offender Adjustment and Reentry), the inmates that have been released and are living in the community participate in after-care meetings and have access to clinician and case management time.
New Approaches to a Long Crisis
Local advocates applaud the changes that county jails have made so far.
"Expanding medication-assisted treatment in the criminal justice system makes sense on many levels," said Michele Merritt, president and CEO of New Futures, a nonpartisan, nonprofit organization that aims to improve the health and wellness of New Hampshire residents. "Approximately two-thirds of individuals who are incarcerated have substance misuse issues, yet for many, the only treatment options available to them are abstinence only, 'cold turkey'-style programs. This leaves incarcerated individuals at a greatly heightened risk of overdose and death when they are released."
And, New Hampshire's changes are part of a national trend to expand MAT behind bars. In an open letter from 55 current and former sheriffs, prosecutors, and other law enforcement professionals, officials argued that providing MAT in jails and prisons is an essential part of their duty to protect public safety and the safety of individuals in custody.
The letter, published in April by noprofits Law Enforcement Action Partnership (LEAP) and Fair and Just Prosecution included a signature from Richard Van Wickler, jail superintendent of the Cheshire County Department of Corrections.
"Decades of studies show that MAT use decreases illicit drug use, crime, and health costs to communities," the letter said. "Continuing MAT care in county jails and prisons is essential to ensuring that formerly incarcerated people do not relapse and reoffend upon release. …
"We recognize that this epidemic of drug overdose requires a new approach. Over 70,000 Americans died from drug overdose in 2017, more than have ever died in a single year from the epidemics of crack cocaine, H.I.V., car crashes, or gun violence. We will work within our own jurisdictions to respond effectively to the new realities of the opioid crisis. By doing so, we will avoid needless fatalities, reduce the use of illicit opioids, and improve safety in our communities."
Van Wickler concurred in a statement from LEAP published with the letter:
"Modern corrections is no longer just detention of accused or sentenced individuals," Van Wickler wrote. "Society demands that we also serve as a hospital, mental health institution, school, and rehabilitation center. Providing adequate and responsible healthcare to treat addiction through medication-assisted treatment is a requirement, not an option."
Meaghan Breen is a freelance writer based in Keene. Anna Berry provided additional reporting.
Granite State News Collaborative
Learn more about behavioral health in New Hampshire as part of the Granite State News Collaborative's Granite Solutions reporting project.
The New Hampshire Bar News is a founding member of the collaborative. Stay tuned for additional coverage at www.collaborativenh.org 
Related Coverage of Behavioral Health Issues