More than 100 people arrived early for the popular Gender Equality Breakfast, featuring Liz Tentarelli, President of the League of Women Voters NH. Tentarelli spoke about how far women have come in advancing their representation in our democracy and stressed that there is still much to do to make the right to vote equal for all citizens. During the breakfast, Christina Ferrari of Bernstein Shur Sawyer & Nelson, P.A. in Manchester delivered an inspirational and emotional speech as she accepted the Phillip S. Hollman Award for her work promoting gender equality in the legal system.
In the first educational session of the day, James D. Robenalt presented Lawyers as Whistleblowers, a look at the intrinsic details of the role that John Dean played as White House counsel during Watergate. The series of events that unfolded during Watergate brought about fundamental changes in legal ethics, requiring lawyers to "report up" and "report out" when crime or fraud cannot be stopped despite the best efforts of the lawyer.
The afternoon session treated participants to a viewing of the American Bar Association's Silver Gavel Award-Winning documentary, And Then They Came for Us: The Perils of Silence. Told by George Takei (of Star Trek fame) and others who were among the 120,000 Japanese Americans incarcerated during WWII in a profound violation of their constitutional rights, the documentary retells the difficult story and follows Japanese American activists as they speak out today against the Muslim registry and travel ban. Attendees were treated to a lively discussion following the film, moderated by NHBA Board of Governors' President, Edward D. Philpot, Jr.  and featuring Dale Minami, lead counsel for in the landmark Korematsu Coram Nobis case, Karen Korematsu, founder and executive director of the Fred T. Korematsu Institute, Hoyt Zia, founding president of the National Asian Pacific Bar Association and Mona Movafaghi of Drummond Woodsum & MacMahon of Manchester. Pleased with the turnout, NHBA President of the Board of Governor's, Edward D. Philpot, Jr. noted,  "This program has been extremely well received and we have really captured everyone's attention delivering a terrific and top notch program for members of the bar."
The Awards Luncheon honored those who use their skills and talents to help those in need in the communities we serve.
Distinguished service to the Public Award: Barbara R. Keshen
Vickie M. Bunnell Award for Community Service: Jack P. Crisp, Jr.
Outstanding Service in Public Sector/Public Interest Law Award:
Kay E. Drought
Outstanding Service in Public Sector/Public Interest Law Award: Lisa L. Wolford
Special President's Award for Distinguished Service to the Legal Profession: Eileen Fox
L. Jonathan Ross Award for Outstanding Legal Services to the Poor: Roger B. Philips
Distinguished Pro Bono Service: Cindy M. Bodendorf
Distinguished Pro Bono Service: Donna J. Brown
Distinguished Pro Bono Service: Rory J. Parnell
Distinguished Pro Bono Service: Olivier D. Sakellarios
Distinguished Pro Bono Service: Kenneth R. Walton
Pro Bono Rising Star: Jacqueline A. Leary
Pro Bono Rising Star: Lyndsay N. Robinson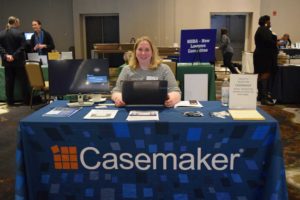 As of June 1, 2021, the NHBA Pro Bono Referral Program is part of 603 Legal Aid.