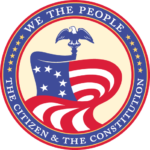 January 12, 2023 (Concord, NH)–
For the second year, Milford High School students took first place at the We the People: The Citizen and the Constitution State Finals on January 6, 2023, at the City Wide Community Center (Concord, NH). Students from Hollis-Brookline High School, John Stark Regional High School (Weare, NH), and Milford High School participated in this annual event, where they displayed their in-depth understanding of the United States Constitution and the Bill of Rights in simulated congressional hearings before a panel of three judges, in six units of study.
Nikol Zyzen, a Milford senior who participated in the day's events, says she knew nothing about the US government when she moved to NH from Ukraine earlier this year. Through the WTP program and the teachings of Lundstedt, she has a fluent understanding and is now part of the winning class of the civics education program. "I was very excited when they announced Milford as the winners," Zyzen says. "The best part is that I have an opportunity to go to Washington, DC, and to spend more time with my amazing class to prepare for representing New Hampshire in the National Finals."
Milford High School will represent New Hampshire at the National Finals in Washington, DC, which will be held April 22-24.
NHBA Law Related Education expresses its gratitude to our members and local civics leaders who volunteered time to participate as judges in this important culminating event. Civics education is one of the bedrocks of NHBA's mission to serve the public via Law Related Education.
About "We the People"
We the People: The Citizen and the Constitution is a national program created in 1986 by the United States Department of Education as part of an initiative to strengthen civics education. NH students learn about government, the Constitution, and Bill of Rights in preparation for annual district hearings and state final events. Learn more about We the People: The Citizen and the Constitution at nhbar.org/civics-education/we-the-people/
About The New Hampshire Bar Association
The New Hampshire Bar Association (NHBA; Concord, NH; www.nhbar.org) is a non-profit 501(c)(6), court-mandated organization. Its members are all attorneys licensed to practice in the state, as well as all New Hampshire judges. Founded in 1873, the NHBA serves our members, the public, the justice system, and the profession.