By Tom Jarvis
De-escalating heightened emotions and providing comfort in the courtroom rests on the capable and furry shoulders of Jack, an eight-month-old Yellow Labra­dor training to become a facility dog. Jack was chosen as a standout from a litter of seven because he instantly showed all the characteristics of temperament needed for this kind of work. As far as I could uncover, Jack is the first dog in the Granite State to work inside the court­room.
As I wrote in my January 2022 Bar News article, Canine Companions in the Courtroom: Facility Dogs in Court May Soon Become Common Prac­tice, facility dogs are assistance dogs, like guide dogs or emotional support dogs, that are specifically trained to work alongside professionals to assist others, such as child victims. In addition to the courthouse, they work in child advocacy centers and city or county attorney offices. When not at work, a facility dog is a loving pet to one of their primary handlers.
After all, paws-ession is nine-tenths of the law.
Jack's handler, Daniel Kinson, is a Ju­venile Probation and Parole Officer (JPPO) assigned to the DHHS Juvenile Justice Services' Keene District Office. He works primarily in the Jaffrey Peterborough Fam­ily Division and the Hillsborough Circuit Court, but sometimes covers court pro­ceedings in other locations, such as the Circuit Court in Keene.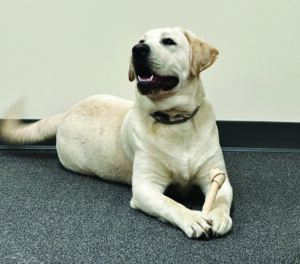 Kinson works to help rehabilitate troubled youths and to provide timely interventions to ultimately avoid patterns of behavior leading to adult charges and further prob­lems. He says that having Jack has already made a big difference with kids he works with.
"Youths come into a courtroom, and a lot of times, they don't understand what's going on," Kinson says. "It's a high-stress environment. Decisions are being made for them. I see Jack making a daily impact – and it's not even just kids on my caseload. I interface a lot at schools, hospitals, and residential placements, and he makes such a difference. It's been amazing to be a part of that and see it evolve."
Although Jack is still in training and new to working in the courtroom, Kinson says he is already making a difference. Just this past week, Jack was able to assist Kin­son with a child that was refusing to get out of the car for a hearing. After Kinson brought Jack over to the car, she came out to pet him and then proceeded into the building without further issue.
"A lot of times, the anxiety builds before you even get into the courtroom," Kinson says. "The juvenile is usually at a different table, but I can put Jack in the down-stay and have the youth hold his leash so Jack is next to them and can pet him. It's also stressful for the parents, and Jack can help to calm them, as well. So, he has a lot of impact before, during, and after the hearings. And I do all the training out­side my work hours because it's something I truly believe in. I've seen the difference it makes for kids."
Jack was donated to Kinson by Cold Springs Healing Paws (CSHP), a non-prof­it organization in New Ipswich specializ­ing in canine breeding and training. Kin­son and his wife, a schoolteacher, had been training their dog Lucy at CSHP to work at the school to assist the children. As part of her training, Lucy would accompany Kin­son to work on some days.
"When we were at Cold Springs for Lucy's training, we were talking about the impact dogs can have for people," Kinson recalls. "I shared a story where I was in a court hearing, and there was a juvenile who was ordered to go into placement – it's one of the most upsetting things for families – and the youth was having a hard time and began throwing chairs around the conference room. We tried calming him and it wasn't working. Normally, the bai­liffs and I would have to place the kid into custody, and they would be detained. But I had Lucy with me that day and I told the youth, 'If you can calm down a bit, we can go outside, and you can play with my dog for a little bit.' He played with Lucy for 10 minutes and was able to calm down, give his parents a hug, and get in the transport vehicle without further issue. It was two divergent paths. What really helped the youth take the path of least resistance was having a dog available to lower his stress levels to the point where he was able to make a more coherent decision."
When CSHP Executive Director Me­lissa Saari heard the story, she told Kinson, "You need a dog," and subsequently do­nated Jack, his training, and his insurance.
Saari indicates once Jack is fully trained, he will be able to sense cortisol (a steroid hormone the adrenal glands re­lease into the bloodstream when a person is stressed or anxious) levels in a person's body, and to be drawn to them and apply the things he's learned to provide comfort.
"It's a game changer for high-stress environments," Saari says. "It not only helps people dealing with the stress, but the people working in those environments, too."
According to Saari, Jack will certify at 15-16 months old, and will have close to 1,000 hours of training and know about 100 words by then.
"Facility dogs are held to the same standards that service dogs are held ac­countable to," Saari says. "The difference is that a service dog is taught to focus 100 percent of their time on their person. A fa­cility dog like Jack is taught to mingle with everyone. He needs to be prepared to inter­act at a school that has like 400 students, and they all want to touch him."
Saari says CSHP's public access test consists of 30 elements, whereas a typical dog that visits the elderly in nursing homes takes a test with only 10 elements.
"I intentionally made it harder because I feel like, especially in Jack's situation, the children he's interacting with have had it rough. So, we want to make sure he's completely prepared," Saari says. "I think there should be dogs in every court and youth services situation, and Jack and Dan are the perfect team to showcase that."
When Kinson brings Jack to court, he always asks the judge's permission.
"By the time we get into the hearing, I've explained to everyone involved what Jack does, and I make sure they un­derstand that if the kids have a hard time and want Jack next to them, he's available to them. So far, every judge has been very supportive," Kinson says.
Keene Circuit Court Judge David Forrest had Jack in his court on one occasion and was so impressed that he invited Kinson to bring Jack back, along with Melissa Saa­ri, to give a presentation to the court staff.
"I saw it as a great opportunity for the staff in the court, as they are dealing with people who are emotionally charged," Judge Forrest says. "I found it fascinating when Dan was telling me about how Jack can de-escalate kids who otherwise may have to be put in restraints, and how the dog has an amazing calming influence. I really applaud him for his willingness to think outside the box by finding ways to integrate Jack into his work with kids – that he would think of bringing Jack rather than using a heavy-handed approach – it's a step in the right direction. If having the dog in court means having less outbursts, that's what we want. I think it's great and hopefully we see more of it."
Judge Erin McIntyre, who splits her time between the Hillsborough Circuit Court and the Manchester Family Court, says she has seen Jack in the courtroom a few times in cases involving kids, and it's a good tension breaker.
"Jack definitely lightens the mood in the courtroom and helps balance some of the emotions that were going on before or after we had cases," Judge McIntyre says.
She also indicated that Jack doesn't just help the kids and families that come into her courtroom, but her staff, as well.
"We've had days where everybody in the court has been having a rough day because of some of the things that we've seen, and Jack comes in and hangs out with us for a few minutes and the whole mood changes," Judge McIntyre says. "It's proof that having him here definitely changes the atmosphere and helps put your emotions back on track. I encourage every court to have one. It makes a big difference."