Mission:
This committee investigates issues of gender discrimination and equality in the legal profession and in the legal system. The committee may undertake projects as deemed necessary or appropriate to ensure fair treatment and equality of all members of the legal profession and all participants in the legal system. The focus for this committee includes follow-up to the findings of the latest NHBA Gender Equality Survey, including development of a proposed voluntary certification process of non-discriminatory, family-friendly employment policies for legal employers to be presented to the NHBA Board of Governors.
Successful Negotiations Workshop
The New Hampshire Bar Association Gender Equality Committee and New Lawyers Committee partnered with the New Hampshire Women's Bar Association to put on a Negotiations workshop. Law students and new lawyers had the opportunity to watch a new hire and lateral/partner level interview and then engage in discussions about how to address some issues that come up during interviews. In addition, the workshop included a panel discussion on the dos and don'ts of negotiating and interviewing, and the panelists also answered questions from the attendees. Thank you to the attorneys with Upton & Hatfield, Pastori Krans, Bernstein Shur, Manning & Zimmerman, Murphy Legal, and McLane Middleton for providing invaluable insight to the future of the New Hampshire Bar.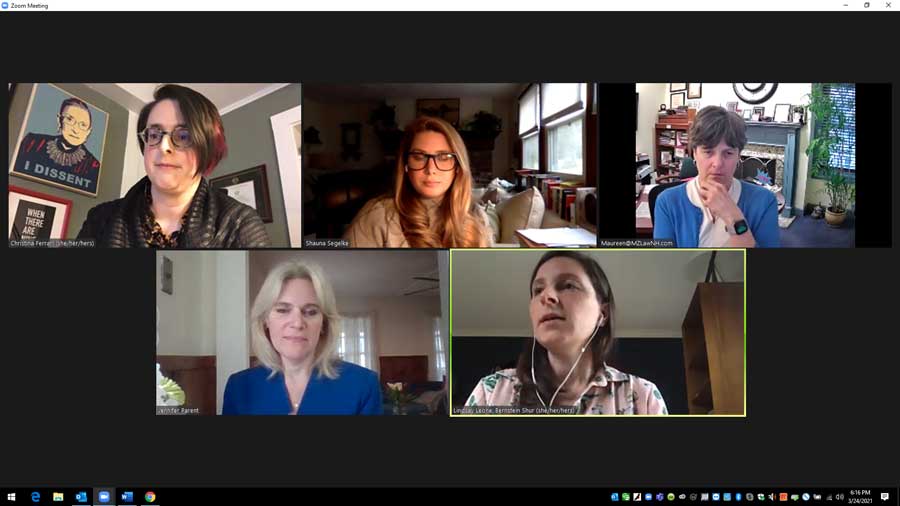 Gender Equality Committee Holds "Ask Me Anything" Event with UNH Law Students
On Tuesday, November 10, NHBA's Gender Equality Committee partnered with the Women's Student Law Association to host an "Ask Me Anything" panel discussion. In the world of COVID, the GEC wanted to give law students an opportunity to network and ask attorney's truly anything. Law students took the opportunity to ask questions about what to take advantage of while in law school, whether a change in field is possible, and what steps to jumpstart and further their career as practitioner in New Hampshire. The panelists each provided such a unique perspective and invaluable advice.
Philip S. Hollman Award for Gender Equality
Established on the occasion of Judge Philip Hollman's retirement from the Superior Court bench in 2003, this award is designed to honor his efforts as a stalwart advocate for gender equality in the legal system.
A Hollman award recipient is someone who is dedicated to promoting respect and fair treatment towards all members of the judicial system. This person acts as a leader, educator, and role model on such issues.
Hon. Landya Boyer McCafferty serves as Chief District Judge in the U.S. District Court for the District of New Hampshire. Prior to that, she served in the same court for 3 1/2 years as Magistrate Judge.  Before joining the district court bench, Judge McCafferty served as Disciplinary Counsel for the N.H. Attorney Discipline Office (2004-2010). Most of her career was spent as a staff attorney for the N.H. Public Defenders Office (1995-2003), including two years as an appellate defender arguing appeals on behalf of indigent defendants before the N.H. Supreme Court.  Judge McCafferty also worked briefly in private practice for the McLane Law Firm. Immediately out of law school, she clerked for the Hon. Norman H. Stahl at both the federal district and First Circuit Court of Appeals. Judge McCafferty attended Harvard Univ. (undergrad) and Northeastern Univ. School of Law.
Stay up to date on changes to Rule 8.4. Click here for the NH Supreme Court Orders, Resources and Bar News Coverage and Dialogue.