New Lawyers Committee
This committee monitors the integration of newly admitted members of the Bar into both the association and the legal profession and plans meetings, provides materials, and educational and social programs to assist new admittees and make them feel welcome to the Bar Association.  The New Lawyers Committee is the New Hampshire affiliate of the American Bar Association Young Lawyers Division.
Committee Events
Upcoming Events
31st Annual  WALK Against Hunger
Virtual 5K – Walk or Run, TreadmillAnywhere, Anytime Prior to Sunday, May 16, 2021 • 12:00 pm
Help new lawyers help those in need. Walk Against Hunger helps support families and individuals experiencing hunger or food insecurity.
Please consider joining the New Lawyers Committee on the NHBA team. We also encourage you spread the word  to donate here!
---
Dinner with a Judge
Thursday, May 27 – 5:30
Atlantic Grill, Rye
Join Judge John T. Pendleton for an intimate dinner conversation at the Atlantic Grill in Rye ( 5 Pioneer Rd.). Seating to begin at 5:30 with anticipated ordering time of 6:00pm. Seating will be outdoors. Limited capacity to 8 participants.
RSVP for your spot today!
Recent Events
Trivia Night – Test Your Knowledge
Taking a different meaning of trivia at the "bar". Fun was had by all! The topics ranged from general knowledge, history, pop culture and everywhere in between. The questions were designed to be challenging but possible to answer as a team.
Negotiations Workshop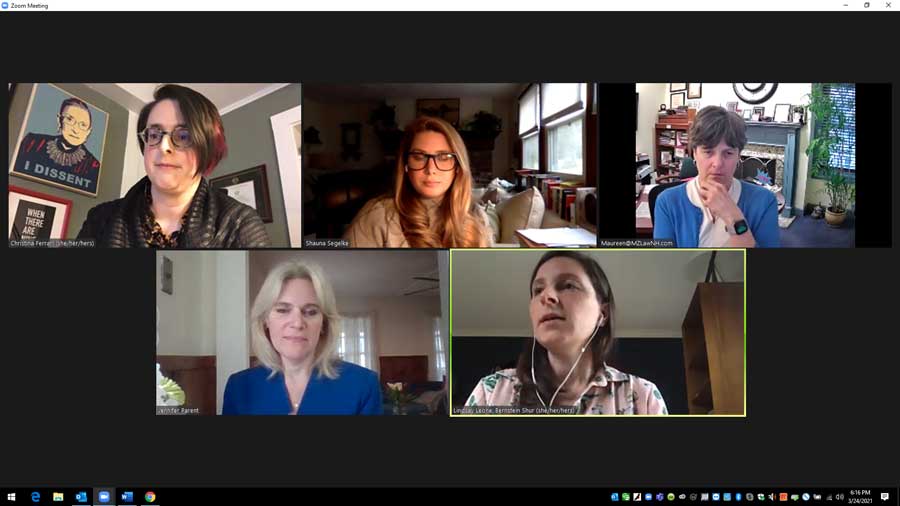 The New Hampshire Bar Association Gender Equality Committee and New Lawyers Committee partnered with the New Hampshire Women's Bar Association to put on a Negotiations workshop. Law students and new lawyers had the opportunity to watch a new hire and lateral/partner level interview and then engage in discussions about how to address some issues that come up during interviews. In addition, the workshop included a panel discussion on the dos and don'ts of negotiating and interviewing, and the panelists also answered questions from the attendees. Thank you to the attorneys with Upton & Hatfield, Pastori Krans, Bernstein Shur, Manning & Zimmerman, Murphy Legal, and McLane Middleton for providing invaluable insight to the future of the New Hampshire Bar.
Midyear Meeting Virtual Chocolate Tasting – February 5, 2020
100 members joined the virtual chocolate tasting by Cocoa
Beantown ( Boston, MA) after Midyear Meeting.  The evening included samples of fine, craft chocolates from several New England chocolatiers and a tasting experience guided by an expert chocolate educator. It was a delicious and fun hour of "education, relaxation and networking!
"Ask Me Anything"
New Lawyers Committee hosted a question and answer session with experienced members of the legal field on November 17. Participants anonymously asked questions about anything on their mind to a panel of experienced legal practitioners and get responses in real time.
Virtual New Lawyers Lunch Break
Newer lawyers (generally lawyers practicing 5 years or less) joined together for a virtual  lunch break to discuss anything what was on their minds. There was discussion suggestions/best practices for appearing in court virtually or telephonically, handling work-life balance during the pandemic, and anything else, and get to know some of the other newer attorneys practicing in New Hampshire.
Virtual New Lawyers Meet and Greet
July 23rd, the New Lawyers Committee held a virtual meet and greet for the NHBA's newest  lawyers who have been virtually sworn in over the last few months. Executive Director, George Moore welcomed the group to the Bar. The committee then facilitated a virtual getting to know you and getting to know the Bar event. Attendees described the event as "inviting", "beneficial", "fun" and "informative"! Don't miss your next opportunity to hang-out with this "social" group!
Virtual Conversations with a Judge 
On December 5 a small group of new lawyers had the unique opportunity to engage in an hour of open conversation with Judge James Gleason. Conversations with a Judge are held throughout the year, and many different judges have participated. New lawyers are notified via email when these opportunities arise, so keep an eye on your inbox and sign up fast. Space is very limited, to keep the conversations intimate Contact Lisa Boisvert for more information.
Committee Resources
Bar News Columns
Chocolate Tasting after MYM 2021 Sponsored by the New Lawyers Committee
Traps for the Unwary – 2020 Edition
Did you know that  Traps for the Unwary has it's own CLE Series? Each month discrete topics are covered in 60 minute CLEs. Topics include:
Land Lord Tennent
Worker' Compensation
Probate Administration & Litigation
And much more…